With an anticipation I have long held back like a team of wild horses, I can begin to give my fans and fans of The Phantom of the Opera a glimpse into my upcoming release ABENDLIED, book two of The Madrigals! For years I have studied Gaston Leroux's most mysterious character, Philippe Georges Marie, the Comte de Chagny. My favorite in all of classic literature the mystery behind this man sparked my imagination and so much more. MADRIGAL begins four years after the events in Leroux's novel, picking up on famous 'plot hole' in the book and branching out from there. ABENDLIED, though second in this series, can be read without reading MADRIGAL. I won't say more expect if you are a fan of Philippe de Chagny or are curious about him... read on.

Here is the promo copy for ABENDLIED finally released by my publisher! (ABENDLIED hits the shelves October 2009) Stay tuned!
(Madrigal can be purchased at all major book retailers and online retailers.
http://www.amazon.com/Madrigal-novel-Gaston-Lerouxs-Phantom/dp/0981557333/ref=sr_1_1?ie=UTF8&s=books&qid=1246883904&sr=8-1
)

Croyez!
Jennifer

Desiring normalcy is difficult enough with a price on his head, but when Erik is falsely accused of killing Philippe de Chagny, brother of his nemesis Raoul, he is launched toward madness.
Anna is an unlikely companion, sharing Erik's heart and the bounty on his head. As the manhunt heats, Erik's mysterious relationship with Philippe spurs the campaign against them and exposes her darkest secret: defending her honor ended in murder.

Plagued by his past as The Phantom of the Opera, Erik's memories enslave his heart to Raoul's wife Christine, whose shocking confession brings a ruthless bounty hunter into the fray and blackmail to the Chagny bloodline. Blackmail from a hunter who cares little about the Phantom or Philippe and everything about the one he has lusted for: Anna.
With the past weeping like an open wound, can love endure or will it take memories of one unlikely man to heal them all?

Memories of Philippe Georges Marie, Comte de Chagny...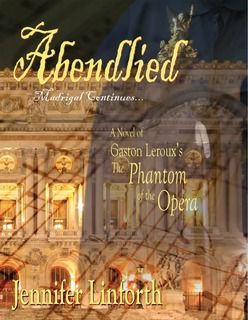 .